Designing and Development
Ideas to Reality,
Know-how to Quality
Based on creation and research only human hands can achieve, Fuserashi's problem-solving team offers solutions to meet its customers' needs.
Furthermore, Fuserashi has realized a short lead time and cost efficiency by fully utilizing its cutting edge 3D analysis system.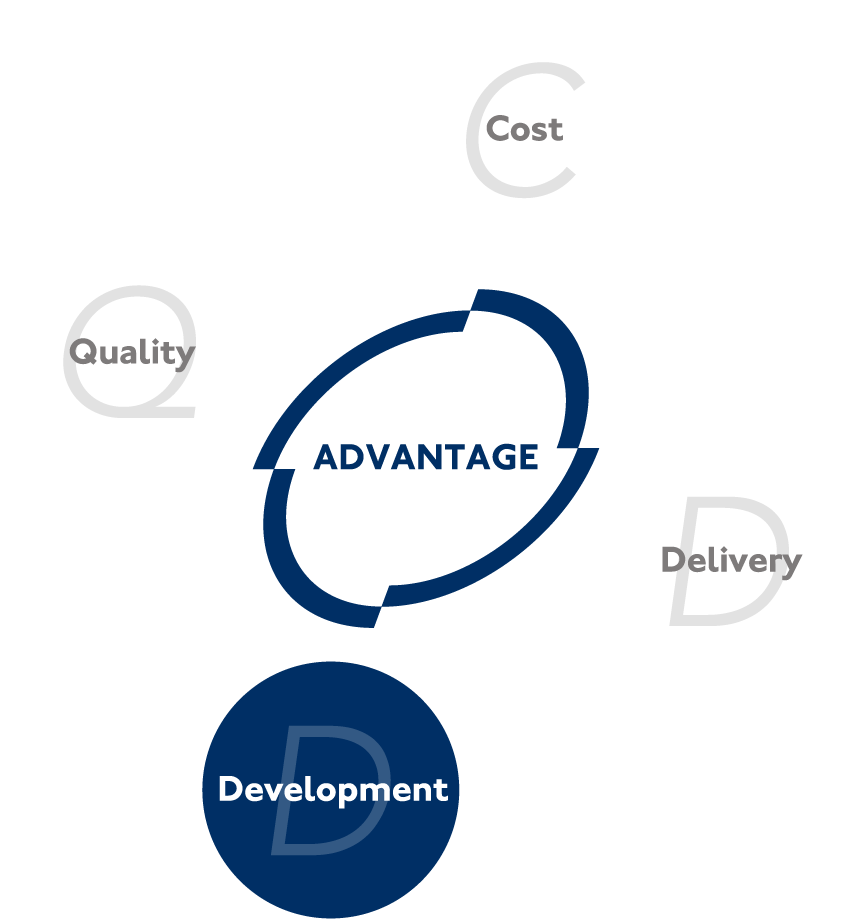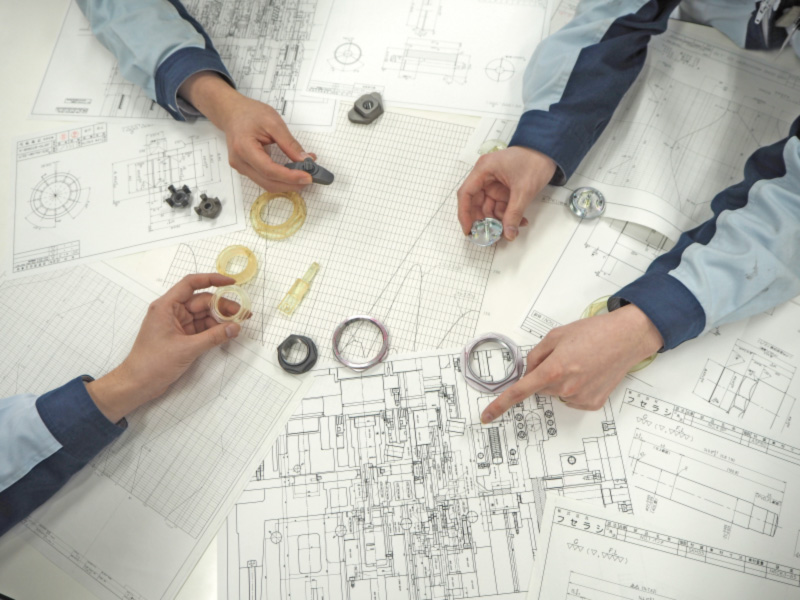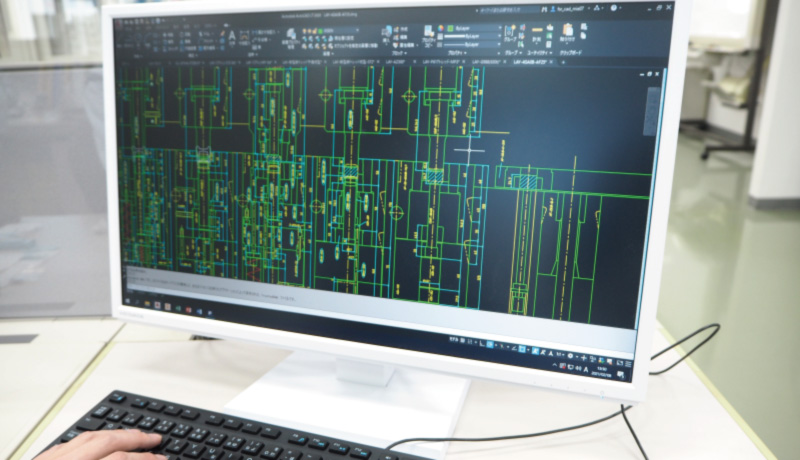 Production Systems
Comparison between forming and die-casting
・High density and superior mechanical properties
・Possible to use steel and other materials unusable in die-casting
・Possible to produce thick-shaped parts
・Stable interior quality
VARIETY OF FORMING PROCESS
The forming process can be divided
into three types according to the difference in processing temperature.
We will propose the optimum processing method according
to the material and production volume
of the metal to be processed and the shape of the final product.
CF (Cold Forming)
Cold Forming is a method of deforming coiled materials at a normal temperature with continuous force above a set level.
Deforming is a method of metallic material processing that renders a metal incapable of returning to its original shape through bending,
stretching or beating the material with a force above a set level.
Because the whole material is processed,
Cold Forming causes less waste of materials than cutting processes
and less heat distortion than hot forging or warm processing. This process also requires less processing time.
Blanks: Cut pieces of metallic material before being formed.
Forming: A manufacturing method for forming metals by applying pressure.
・Because it is processed at normal temperature, there is little variation in the product without being affected by the dimensional accuracy due to thermal expansion.
・Processing speed is high and very productive making it suitable to mass production.
HF(Hot Forming)
Bar/coil materials are heated to 1260°-1280°C, and continuously cut into blanks. These blanks are then transferred and formed into finished products in multiple stages (3 stages).
Hot Forming is a method of processing heated materials. This method makes use of heat to soften the material in order that it may be processed more easily. Materials are heated to a little higher than the transformation temperature (point of metallic organization transformation) but a little lower than the point where the material starts melting, and are formed by using continuous force above a set level.
・Hot forming can process complex shapes and large products
WF (Warm Forming)
Processing method is performed at an intermidiate temperature between cold forming and hot forming (300-800℃)
This method is used when cold heading is difficult to mold and hot heading has problems with processing accuracy and productivity.
While it has the advantages of both cold and hot forming, it also has the disadvantages of both.
MP(My Press)
After cold or hot forming, the products undergo precision forging in order to be formed into complex shapes and meet highly precise dimension requirements.
Forging: A manufacturing method for forming metals with a press machine.
My Press is a process where metallic materials inserted into a die are pressed at a normal temperature with a force above a set level in order to meet required forms and dimensions. Because materials' resistance to deformation is strong at normal temperatures, the change rate is smaller than in Hot Forming, and each stage of this process is subject to shape restrictions.
However, this method is highly productive and realizes high dimensional accuracy, while attaining a smooth surface.
TP(Tapping)
Female threads are made by automatically tapping at the hole of the semi-processed products created by cold forming, hot forming and MP.
In most automatic nut tappers, a tapping blade tool called a bent tap rotates and threads.
Threaded nuts fix the tap shank, thereby, enabling continuous tapping.
Tap: A tool used in the tapping process to cut thread inside a hole.
Female thread: A thread groove inside a hole, like the thread of a nut.